NUUG's Annual Summer Barbecue: Thursday June 15. 2006 at 18:30
The Norwegian Unix User Group would like to welcome everyone in the Oslo area with an interest in UNIX, UNIX based systems, Free Software and Open Source to a barbecue evening in the company of people with similar interests.
The location will be the Chemistry cantina Atrium at the University of Oslo (building 23 on the campus map, entrance from Apalveien, on the lower left part of the map.)
Traditionally, the NUUG barbecue has been fun with a good crowd attending - chatting about the progress of UNIX based systems, Free Software, Open Source or any other topic found interesting. NUUG would like the barbecue to be a celebration of this and the community, and hope you too will attend this year's barbecue.
This year, the attendees of the Nordic Perl Workshop 2006 will join us too.
To attend, we need you to register before 07:00, 2006-06-15 so we can prepare the right amount of food. The maximum number of attendees is 200 people. NPW'06 attendees do not need to register here.
The food is sponsored by SUN Microsystems, and thanks go to USIT for helping with the administrative bits.
We wish both NUUG-members, NPW'06 attendees and other interested people welcome!
Menu:
NUUG and SUN will provide the barbecue and food for free (thanks to our sponsors), but you can bring your own food too if you have special dietary requirements. There will be cold beverages for sale.
Pictures from earlier events: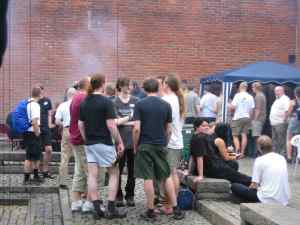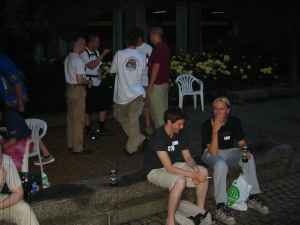 Thanks to Morten Werner Olsen for pictures.
Thanks to our partners!